Writing a poetry book requires creativity, connection, expression and patience.  With a touch of empathy and an Eye for Photography, Ms. Brittney Johnson's poetry book "B's Book of Poems", has been able to adapt to all of these principles with great prose, compassion and grit.
Over the course of an individual's life, they experience all sorts of ups and downs.  This can lead to life experience and growth.  After reading this poem book, I found a sense of respect for the human race and the power we have to love and endure pain.  Everybody wants to feel love and be loved.  By nature, we want to belong.  This is why this blog piece is about Connection.
What is Connection?
Connection is the association and relationship between things and people.  It is the link or bond that keeps everyone together and feeling like they are part of something.  This is so integral in our society and without it, we become lost.
In today's technological world, connection certainly has evolved and instead of connecting in live personal ways, we are often just connecting digitally.  In some ways, this is a mask of our true identity, so as individuals, we must adapt to a different way of connection.
Relationships Don't Always Come Easy
All of our relationships require attention, trust and connection.  The way we interact with others will vary, depending on if we are at work, with our friends, family or with our partner.  There is always something at stake and often, emotions will override logic.  This has been proven with family, and most habitually, in love.
I believe the most important thing to practice is managing conflict in more positive ways.  This requires us to listen.  Listening means taking the time to understand someone else's point of view.  You don't have to agree, but it requires acknowledging that their point of view makes sense.  This is so important to cultivate collaboration and discussion.  Otherwise, our defenses go up and we begin to doubt.  This makes it very difficult to engage in a healthy dialogue, boost self-esteem, and resolve conflict.  The poetry book had many examples of how to get past this.
Misunderstanding is by far one of the number one reasons there is conflict in relationships.  Crossing that bridge to come to a better understanding is key to creating an improved relationship with your co-workers and loved ones.
There is a Light at the End of the Tunnel
Falling in love is easy.  Break-ups are hard.  The journey in-between can be magical.  I think there is so much truth to this.  When it comes to love, there can be some wonderful moments.  Moments when you can't keep your hands off each other.  Then, there are moments when you can barely look at each other.
This crazy roller coaster can take you down a path of darkness, especially if you end the relationship or suffer from a loss.
When I read the poem called "Here We Are" and "Letting Go" in Ms. Johnson's poetry book, it really resonated with me.  It made me think that peace and love is possible time and time again.  Even in our darkest moments, it is so important to see the light at the end of the tunnel.  This doesn't mean you have to have tunnel vision, but be open to the light.  No matter what, this is what will help you find your passion to success.
Final Thoughts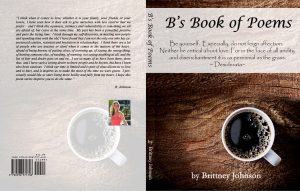 We are born to need one another. Our human brain is wired for connection.  Accepting your need for emotional connection is a sign of depth and healthy development.  Try not to let fear take over this necessary bond and learn to be creative and patient.  There is no such thing as a perfect relationship, but a loving relationship that involves connection is the best recipe for a long and blissful life.
A famous quote from Ms. Johnson's book really stood out to me.  This is how we can learn to maintain connection and work toward something better.  Optimism at heart and overcoming suffering.
The most authentic thing about us is our capacity to create, to overcome, to endure, to transform, to love and to be greater than our suffering.
~ Ben Okri